Posted by DecoArt on Mar 1st 2016
I've altered the cover of a Fancy Pants Brag Book - Artist Edition for my upcoming vacation in May. This is the perfect project to complete before a trip and fill with memories after!
Items Needed:
Fancy Pants Brag Book - Artist Edition
LaBlanche Script Stamp
Chipboards
Metal Handle
Archival Ink Jet Black
Assorted Brushes
Palette Knife
Black Cardstock
Corrugated Cardboard
Instructions:
Paint cover with black Gesso and let dry.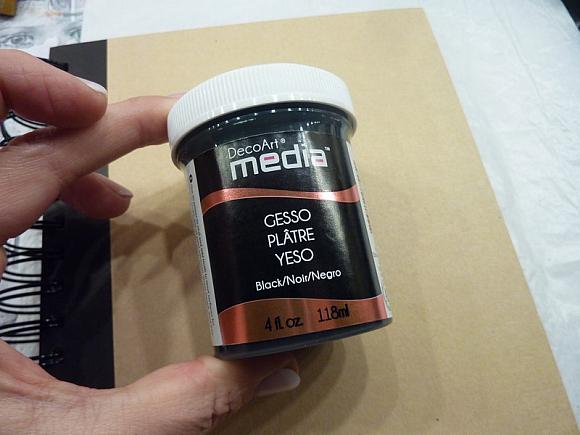 Apply a layer of Americana Wethered Wood Crackle Medium and let dry.
This medium is needed - underneath a layer of Media Crackle Paint - to achieve mega crackles.
I recommend to watch the step by step video from Andy Skinner:
https://www.youtube.com/watch?v=mAAh8NkHRVE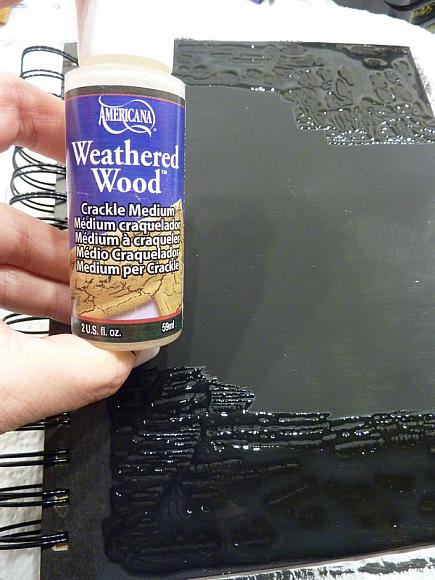 Use the Mixed Media Stencil "Shedded" by Andy Skinner and apply Modeling Paste.
Use a palette knife to put on a thick layer of Crackle Paint on top of the Americana Weathered Wood Crackle Medium.
Let all your layers of different mediums air-dry.
Prime chipboards with a layer of Gesso.
Paint chipboards with Media Fluid Acrylics Transparent Yellow Iron Oxide.
Don't paint too neat, splodges give a grungy look.
Stamp small script with Archival ink on top.
Apply a layer of Media Crackle Glaze on the chipboards.
The different mediums are dry now and you've achieved mega crackles.
I hand - sewed a little border around my picture. Glued the picture to black cardstock. Mounted everything to a ripped piece of corrugated cardboard, which was painted with white Gesso around the border.
Adhere the picture / corrugated cardstock assemble to the cover.
Mix Ultra-Matte Varnish with Media Fluid Acrylics Paynes Grey and paint on the whole cover / chipboard etc and let dry.
Apply thin layer of Media Fluid Acrylics Paynes Grey followed by Media Fluid Acrylics Quinacridone Gold.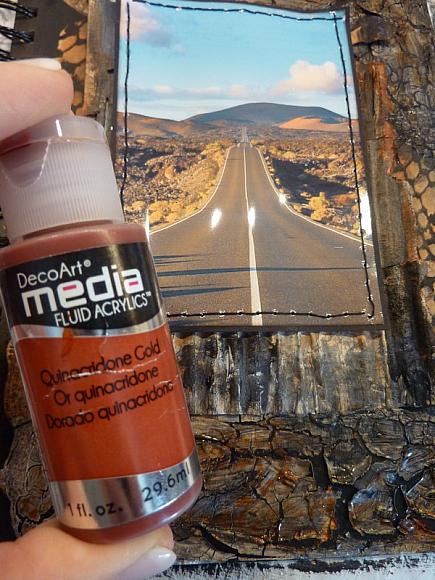 Mount on the metal handle and other embellishments.
Adhere chipboard words
Mix Media Fluid Acrylics Titan Buff with Media Fluid Acrylics Prussian Blue Hue and paint the chipboards.
Dry brush leftover paint to some spots of the cover and embellishments.
Dry brush Media Fluid Acrylics Medium Grey Value 6 to some spots for highlights.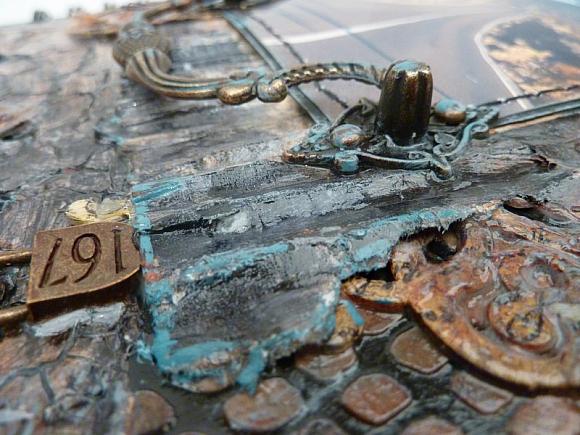 Paint Media Gloss Varnish over the whole cover besides the picture and the metal embellishments.