Posted by DecoArt on Feb 1st 2018
It's February! The weather may be cold outside… but on the inside, all hearts are warm and beating passionately for their Valentine.


I have created this cute little "retro" gift bag using DecoArt's fabulous line of Media and Americana Premium products.


This little bag started out as a plain brown-ish stiff paper mache bag. The handles were are a twisted kraft paper. I could see so much potential in this little bag. It just needed huge pops of color, pattern, and imagination.


Enter DecoArt's Media Fluid Acrylics Line of paints and mediums, some DecoArt Premium Americana Acrylic Paints, Andy Skinner's Bubbles Stencil, Southern Trading Company's adorable Laser Corset, some random Patterned Gift Wrap Tissue, a few other odds and ends and wha-lah! A cute vintage Valentine decoration for your home or a darling gift for your sweetie!
Items Needed:
Stampendous - Andy Skinner Textures Stamp Set
Southern Trading Company - Laser Cut Corset
Various Printed Tissue Papers - Type Printed And Teal Striped
1 - 3.5 In. Red Foil Heart Doily
1 - 3.75 In. Cream Circle Lacy Doily
3.5 In. Vintage Tag
Scrap Of Tulle
Chit Chat Words
Small Confetti Foil Red Heart
1 - Small Cream Rose
Permanent Black Ink And Black Pen
Paintbrushes
Small Stencil Brush
Baby Wipes
Girl Images From The Internet - Sized To Fit The Corset
Glue
Instructions:
Let's move on to the instructions for creating this adorable little Valentine treat.
First, prepare the paper mache bag by painting it completely with DecoArt Media White Gesso. I mix mine with a little water so that it's more of a thin paint consistency rather than thicker. Heat set or air dry.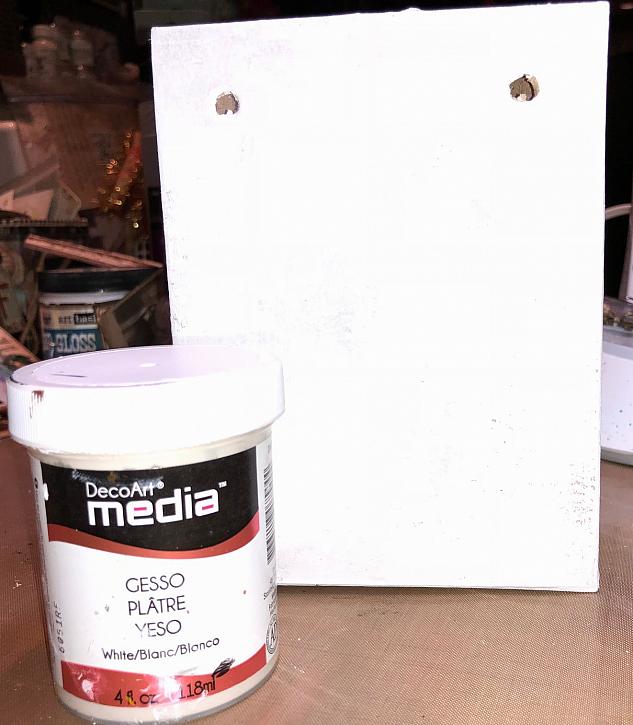 Then, using DecoArt Matte Medium, add some randomly torn printed gift wrap tissue (print images you choose) to your bag. I first added some torn pieces of book text tissue paper to my bag. Brush the Matte Medium on the bag and lay the tissue over the wet surface. Rub your fingers over the tissue paper to remove wrinkles and air bubbles. Then, brush more Matte Medium over the top of the tissue paper to seal it.
Once you have added all the type print tissue paper and it has either air dried or it's been heat set, then add the teal striped tissue paper over the top of the entire bag. I cut the striped tissue paper in long strips the width of the bag and sealed it in place using the Matte Medium and the same method as I did when applying the text tissue paper. Heat set.
Mix DecoArt's Media Fluid Acrylics Transparent Yellow Iron Oxide with a little water and apply it all over the surface of the striped tissue paper on the bag using a baby wipe. Wipe away the excess and add more in areas that you want to look more aged or have a shadow effect. Heat set or air dry.
Lay Andy Skinner's DecoArt Bubbles Stencil in place on top of the bag. Use a small stencil brush and lightly apply DecoArt Premium Americana Cadmium Red Paint randomly over the surface of the entire bag. Do not use all of the circles on the stencil. Just pick and choose some of them and how you want them placed on the bag. Heat set. Next use a small lid, an eraser on a pencil or something that will make a round print. Dip the object into a small amount of DecoArt's Media Fluid Acrylics or Premium Americana Carbon Black that has been smeared on a flat surface. "Stamp" the image in the center of the red circles created using the stencil. Heat set.
This is what the background of the bag will look like at this point.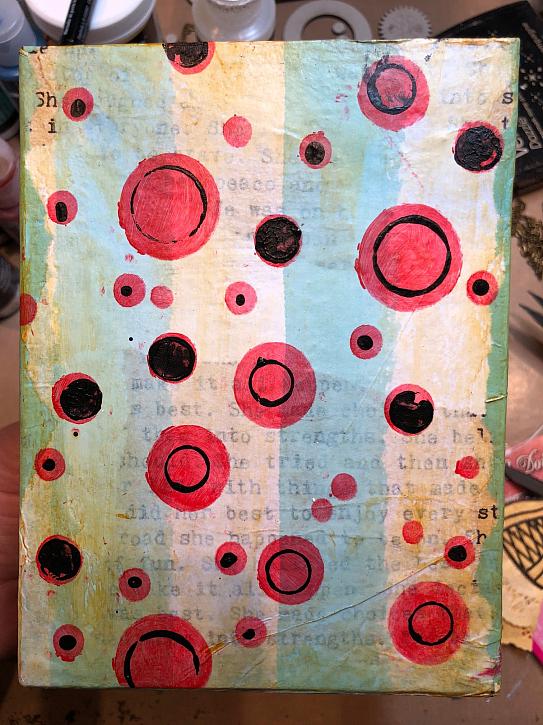 Paint the Southern Trading Company Laser Corset with either DecoArt's Media Fluid Acrylics or Premium Americana Carbon Black paint. Apply glue to the back of the corset edges and press the corset into place at the top of the circle doily. Let dry and then cut around the corset. Use the remaining pieces of the doily to create the two-tiered skirt and glue into place behind the corset.

Size and print the girl image onto a piece of white cardstock. Cut her out, edge her with a black permanent ink pen and glue her in place behind the corset.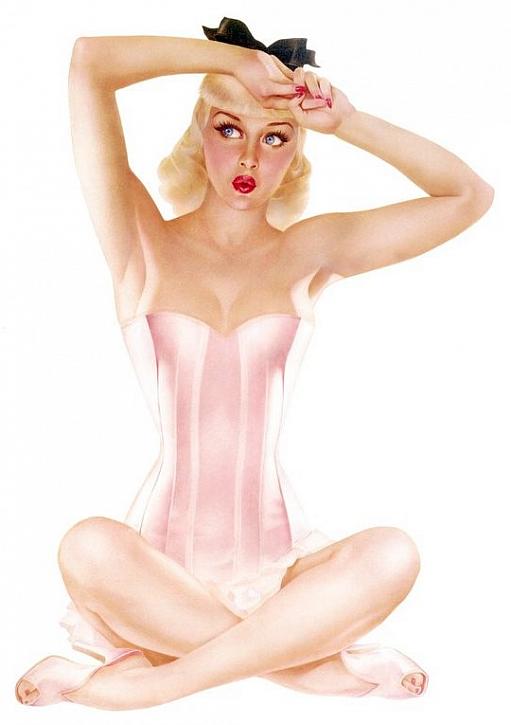 Paint the inside of the bag first with watered down DecoArt Media Gesso. Heat set. Then add a light coating of watered down DecoArt Media Transparent Yellow Iron Oxide. Heat set. Then using your finger, apply a small edge of DecoArt Media Fluid Acrylics or Premium Americana Carbon Black Paint around all of the edges of the bag.
Create a tag to hang onto the bag using a 3 ½" tag. I used a small vintage receipt kraft paper tag that I whitewashed using DecoArt Media Gesso and a light touch of DecoArt Media Transparent Yellow Iron Oxide mixed with water. I added a small washer from Tando Creative's Industrial Set to the top of the tag. It was colorized using DecoArt Media Gesso first followed by a mix of DecoArt Media Fluid Acrylics Titan Buff, Cobalt Teal Hue and Blue Green Light (to match the teal stripe on the bag).
I stamped two of the new images from Andy Skinner's NEW Stampendous Textures Stamp Set using permanent Black Ink. I then edged the tag using my finger and applying black paint.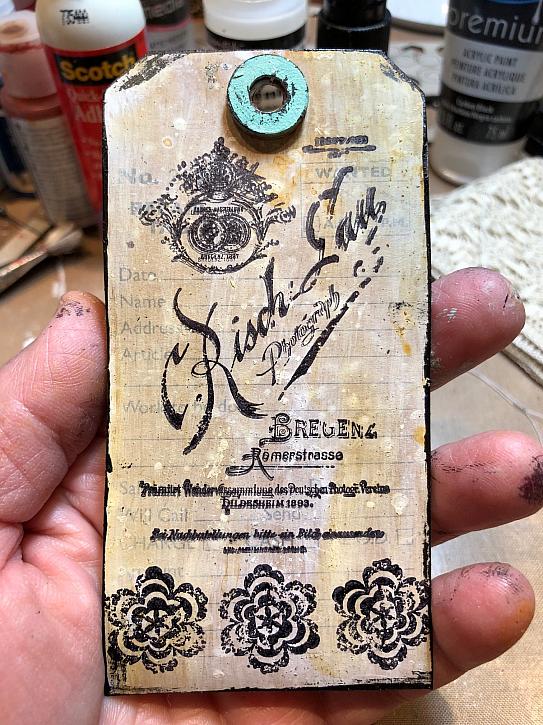 String the handles back through the holes in the bag and tie them in place. Glue the Red Foil heart in place on the front of the bag. Next glue the corset girl in place over the heart followed by the sentiment "you make my heart smile" using Chit Chat words. (The words could also be computer generated.)
Tie the tag in place using a scrap piece of cream tulle and your gift bag is finished!
This little gift bag is not hard to make and as I said, it would make a wonderful gift or a home décor piece. The dimension is amazing and the colors really give that wonderful "retro" feel of Valentine's Days past.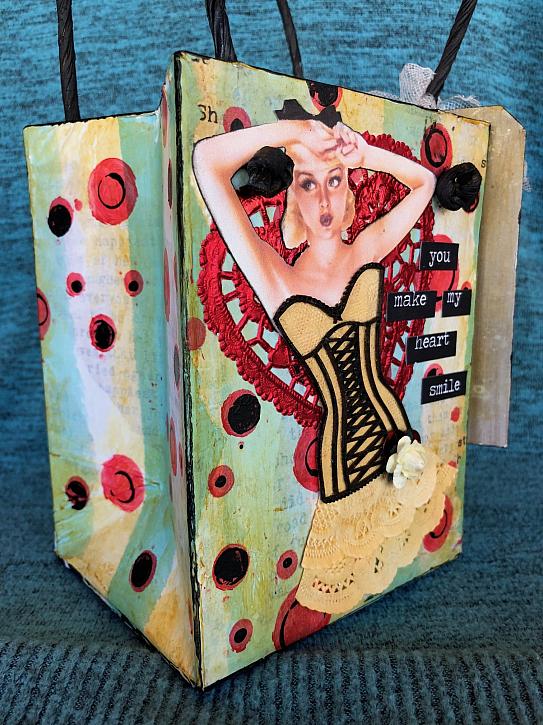 Thank you so much for stopping by! I hope that you learned a new technique or a little about one of the many products used on this Valentine Gift Bag. Don't be afraid to experiment and explore your imagination! You'll be amazed at what you can create!