Posted by DecoArt on Jul 26th 2017
This project was inspired by my mother's tea cup collection and my love for afternoon tea!
Items Needed:
Wood Canvas 8x9
Assorted Brushes
Palette Knife
Assorted Stencils
Paper Doily
Butterfly
Paper Tea Tag
Instructions:
Re-Purposing a used canvas creates interest from the beginning. Colors and shapes peek out
from underneath the crackle medium as seen in the beginning photo. Giving instant depth and mystery.
Generously apply Crackle Paste to the surface, leaving bits of the original showing underneath.
When dry, sketch on the design.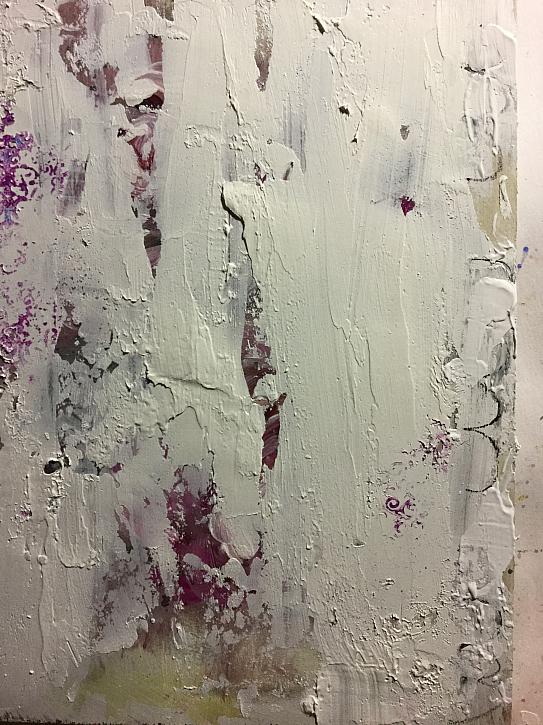 Add a thin layer of paint to cups and saucer in the following colors and order of cups:
Cerulean Blue, Dioxide Purple, Cobalt Teal Hue and Dioxide Purple to saucer.
Wash Transparent Yellow Iron Oxide onto white areas of the cups and table cloth. (foreground)
Using a stencil, add Dioxazine Purple stencil- see photo for placement
When first layer of paint is dry, shade cups and saucer with same colors, giving them some depth.
Using the Decou-Page, apply tea tag, butterfly and paper doily.
Stencil Burnt Umber lettering and swirl to background.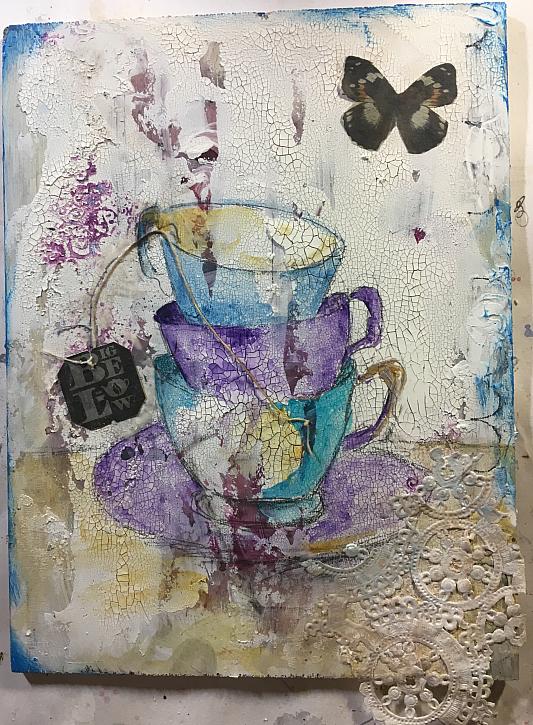 Deepen Shading on design by adding Cerulean Blue to Cobalt Teal areas, more dioxide purple to purple and Burnt Umber to blue areas. Just tap the colors onto the areas. This will create some more texture. See photo for placement.
Using Primary Magenta, tap in little flowers to top and bottom cups. Follow with tiny leaves
tapped in with Yellow Green Light.
Develop flowers with Titanium White strokes within each flower. Repeat with Primary Magenta if necessary.
Strength shading to cups and saucer once more. See photo. I like to layer as I go. Always editing and always adding.
Dot in Titanium White highlights where needed.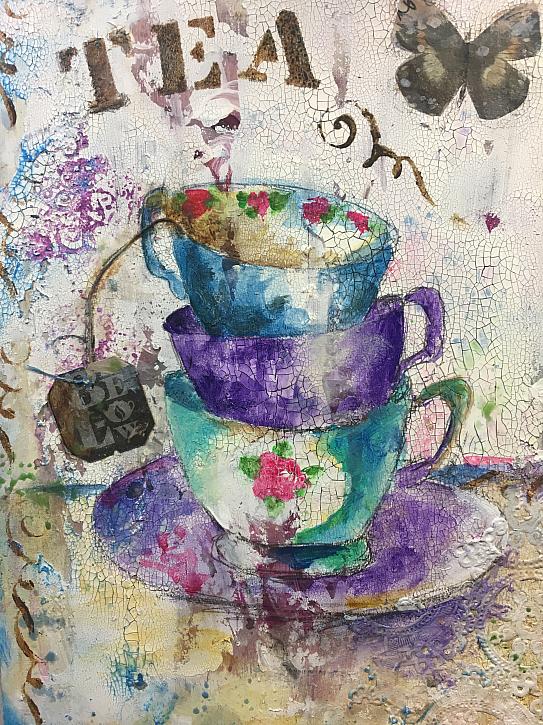 Finishing Touches:
Lightly brush Raw Umber Antiquing Cream to edges and onto background. Wipe excess off with a paper towel. When dry, follow with Patina Green Antiquing Cream to Edges and background. Wipe excess off with paper towel.
Add a small amount of Cerulean Blue over the Patina Green if desired.
Splatter with Primary Magenta, Dioxide Purple.
When all is dry, apply Metallic Gold to outer edges of cups, saucer, handles and bottom design.
Tap in some gold dots to blue, top cup. Hint: This works best by using an Ultra-Fine Writer tip to your paint bottle. Best invention!
Now you have earned that spot of tea!