Posted by DecoArt on Jun 21st 2016
When I first drove by the second hand store and saw this ladder propped up outside, I had grand plans for it. Those grand plans did not include a Wooden Ladder Towel Holder, I hadn't even thought of that yet. But I did think of a dozen things I could do with it and all of them included the use of Americana Decor® Outdoor Living Paint. 
Items Needed:
Americana Decor Outdoor Living Paint 8oz - Picket Fence
Old Wooden Ladder (back Half Removed)
Paint Brush
Metal Robe Hooks
Screwdriver Or Drill
Sander Or Sandpaper
Instructions:
My original plan was to add shelves across the open ladder and turn it into a plant stand. If I had been the one to go by and pick up this $10 ladder myself, instead of having my husband do it on his way home, I would have known that wasn't possible. As a ladder, it was dead. The back half literally held together by that tape you find in a first aid kit.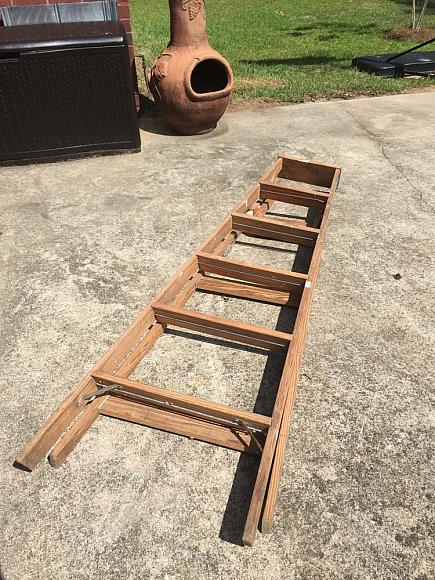 But one day I walked by the ladder propped against a wall and realized I didn't need both halves to make it functional. All I need was the front half, some L-brackets and some Americana Decor® Outdoor Living Paint.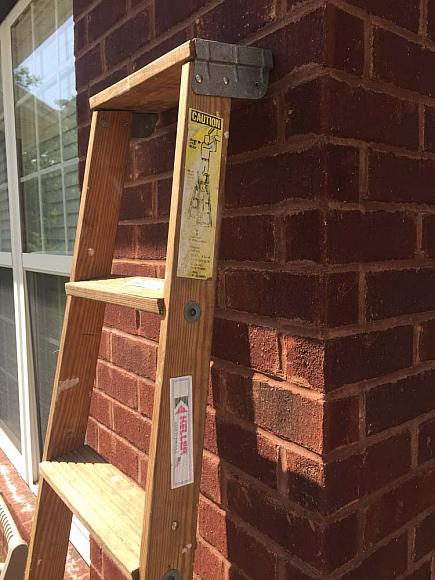 I also needed a grinder to remove the heads of those two screws that held on the back half. After that, it was ready for a new life. And I was ready to not have swim suits and wet towels strewn across out back patio.
To be honest, with so many beautiful color choices, the hardest part was picking one. In the end I went with white to keep things crisp and clean.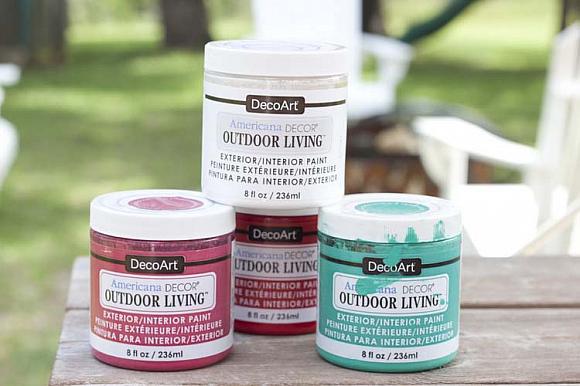 Remove any stickers or gunk from ladder. Sand lightly to smooth surface and further remove any residue left behind by stickers or previous use. Wipe clean with a damp cloth. Coat with your favorite color of Outdoor Living paint, I used two coats. Allow to dry overnight.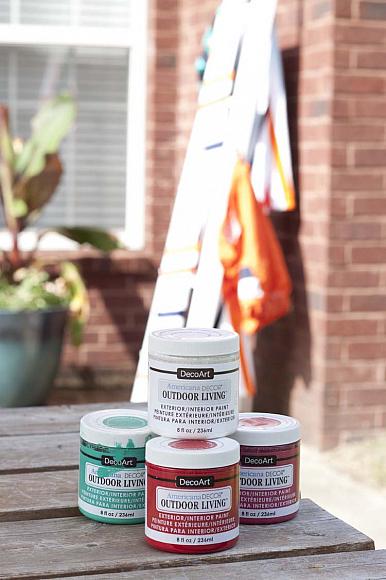 Add 4 metal robe hooks (found at your local hardware or big box store), two on each side for hanging swim suits. Allow two weeks for paint to cure before putting it to heavy use or allowing it to be exposed to rain. After that, attach to wall with L-brackets to keep it from falling.
This might just be one of the easiest, but most functional, projects I have ever done. I love the super smooth texture that the eggshell finish of the paint provides. It easily sealed in any rough edges the ladder had and made it perfect for holding towels and swimsuits without any snags. It also makes it super easy to wipe down.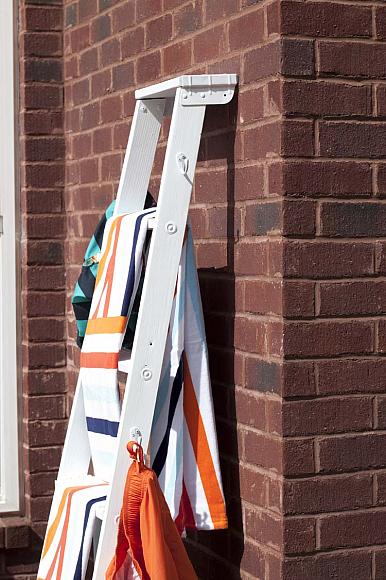 No more wet and soggy puddles on the back patio. In fact, the towels and the swimsuits adoring this ladder are much more like decoration!