Posted by DecoArt on Jul 17th 2019
Among my favourite craft projects and techniques, surely handmade books covered with papers made with my beloved DecoArt paints and the Gelli Arts® Gelli Plate are a frontrunner. There's nothing that feels more rewarding than holding a book in my hands that I have made with my own hands from simple paper and greyboard - just by the use of scissors, paints, a brayer, a printing plate, some thread or yarn and a bit of glue! I especially love the subtle but distinctive texture of gel plate prints! It adds so much character to the finished artwork and the fact that there is always a bit of a surprise factor with every pulled print from the Gelli® Plate also makes the process very playful and highly enjoyable.
I decided to create a maritime-themed notebook this time - using mainly cool colors like greens and blues in my quite hot studio in very hot Vienna to spread at least the feel of a fresh, cooling ocean breeze. And as whales are one of my favourite sea creatures, I made them the focal element on my notebook and assembled a whole whale family - mom and dad on the covers and baby whale as a bookmark.

**DecoArt Note: Find more Gelli Arts® + Americana Premium projects here and learn about our giveaway! 
Items Needed:
Gelli Arts® Printing Plate 8 X 10 Inch
Gelli Arts® Square Edge Tools
Gelli Arts® 4-inch Pop-in Soft Rubber Brayer
Dots Motif Foam Stamp
Various Die Cuts
Die Cutting Machine
Various Stencils
Heavy White Printer Paper
Thick Greyboard
Assorted Brushes
Water In Spray Bottle
Bonefolder
Rough Yarn
Hole Punch Kit And Hammer
Instructions:
Step One: I got everything ready so I could reach it in one grab – a pile of printer paper, brayer, Americana Premium Acrylics, mark making tools, foam stamps, die cut masks and stencils. I also made sure I had enough space to put my pulled prints in to let them dry and/or reuse them to add more printed layers.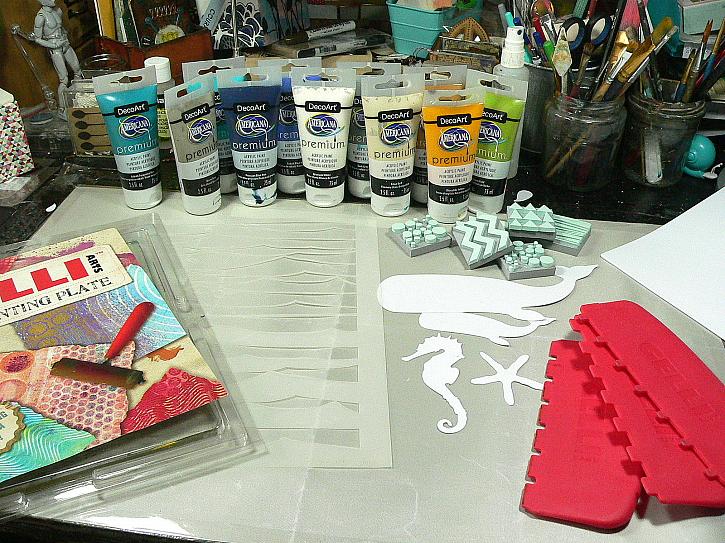 For the first pull I applied Titan Buff, Cobalt Blue Hue and Cobalt Turquoise Hue in dots across the Gelli Plate. Then I spread the paint with the brayer making sure I only moved it in horizontal lines and not too often across the same area. This way I got a "smudged dots pattern" (see photo) instead of an evenly spread color mix. Then I put the waves stencil on top, placed a sheet of printer paper on top and rubbed with my flat hand across the whole printing area before I pulled my first print.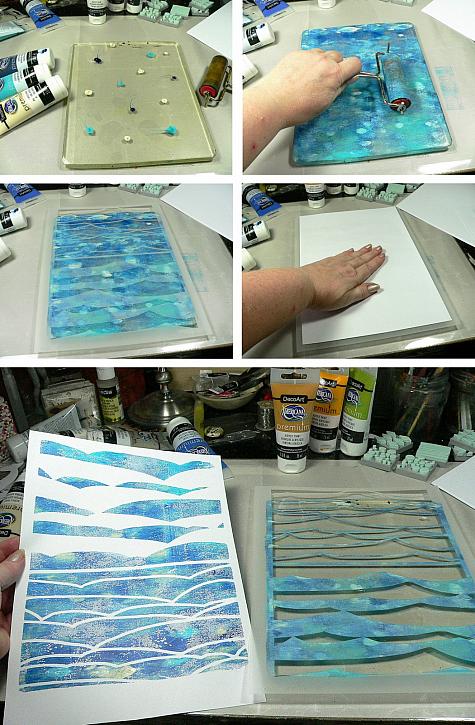 Step Two: Die cut so when I removed the stencil the paint that had been "masked" by it was still good to go for a second print. I simply misted the paint with water from a spray bottle and pulled another print – the so-called ghost print.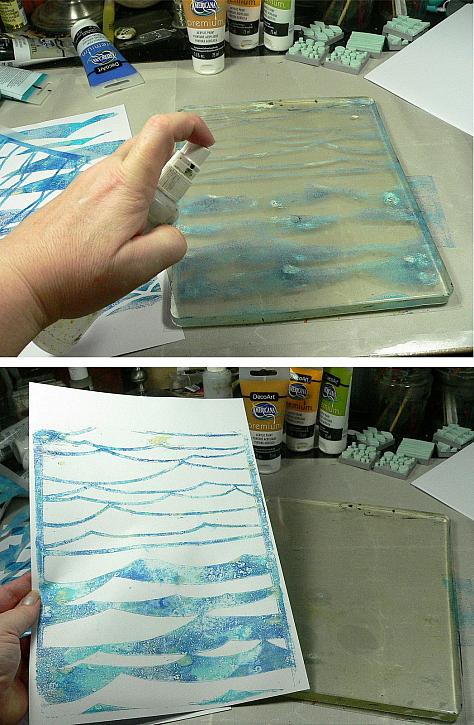 Step Three: I had die cut a large and small whale shape, a sea horse and a starfish from printer paper to use as masks. I also used one of the prints I had done with the large whale mask and that I didn't like to create a whale stencil from (I simply cut out the whale shape by hand).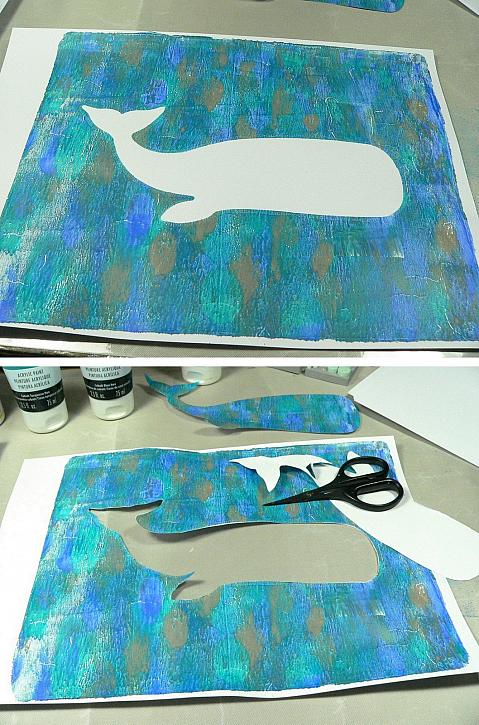 Step Four: To create my air bubble background paper I first applied a mix of Cobalt Blue Hue, Titanium White, Cobalt Turquoise Hue and Cobalt Teal Hue in the same way as in step one. Then I used my dots foam stamp to lift paint off the Gelli Plate and stamp it onto one of the paper sheets I used to clean my brayer on after each use instead. (I never through these away as they often give beautiful abstract art results or make for a cool base to pull prints with too)

This way I got two patterned papers in one go – the one from the pull with the air bubble effect and the other from the bubbles I stamped onto the "brayer paper."

Next, I mixed Titan Buff and Titanium White on the Gelli Plate with the brayer and place the whale mask on top to pull another print with the "bubble print" I had just created.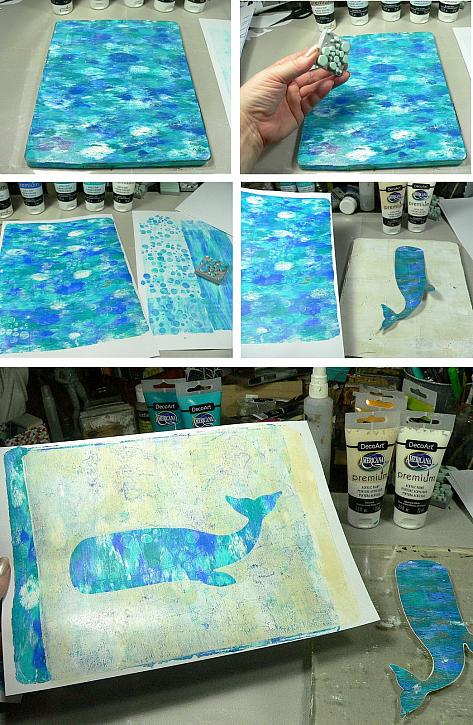 Step Five: I pulled another print with the Titan Buff, a ittle Transparent Yellow Iron Oxide and Titanium White mix to create a background for the waves print I was going to do. While the first print dried, I spread a mix of Cobalt Teal Hue, Cobalt Turquoise Hue, Cobalt Blue Hue, Warm Grey, Titan Buff and Titanium White with the brayer (as in step one), then put the waves stencil on top and pulled the print with the dry background paper.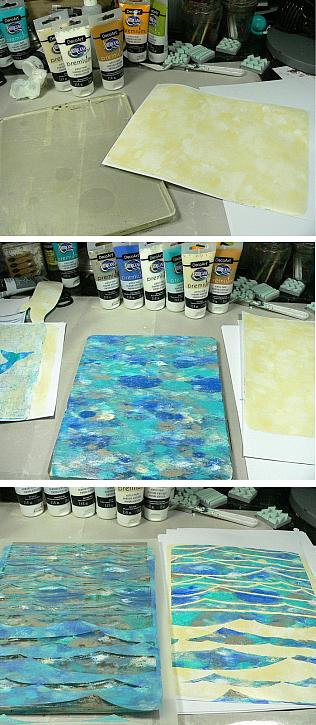 Step Six: This time I tried another "bubble paper" (as in step four) and varied the colors. I once again misted the paint residue on the Gelli Plate after I had pulled my first print with water to pull another print. This ghost print (see bottom picture) turned out just beautifully! I put that to the side because I wanted to use it as one of my signature covers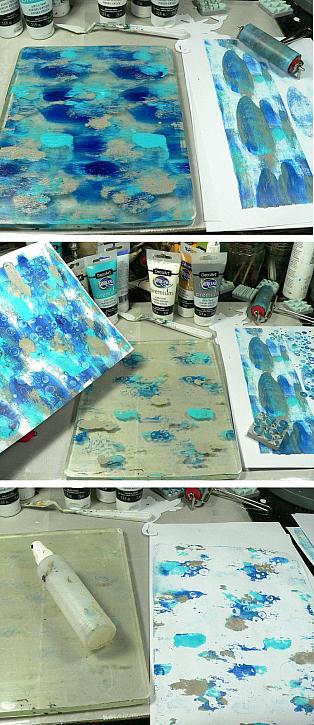 Step Seven: For my next print I used the first print from the previous step as a background. I wiped the Gelli Plate clean with some spritzes of clear water and a soft cloth and then applied Titanium White and spread it evenly with the brayer before I went in with one of the Gelli Arts Square Edge Tools to create a horizontal stripes pattern. I pulled my print and put it to the side to add another layer – this time I just thinly spread a very small amount of Prussian Blue Hue and moved the Square Edge Tool to create a vertical stripes pattern. This way the stripes from the two printed on layers created a lovely squares pattern. The final layer was done using my die cut whales mask and a layer of Titanium White.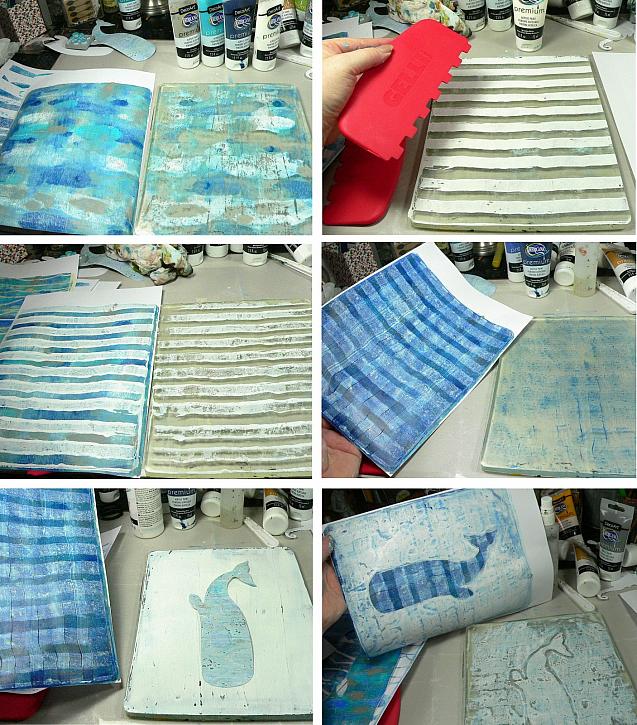 Step Eight: By now I already had several whale prints and bubble backgrounds, a waves print and some "brayer cleaning papers" with stamped on bubbles and marks from cleaning the Square Edge Tool. I decided I needed another waves print for my covers' insides, so I repeated step one and just varied colors. As you can see in the upmost picture I used one of the whale prints that didn't turn out too well as a background to print on.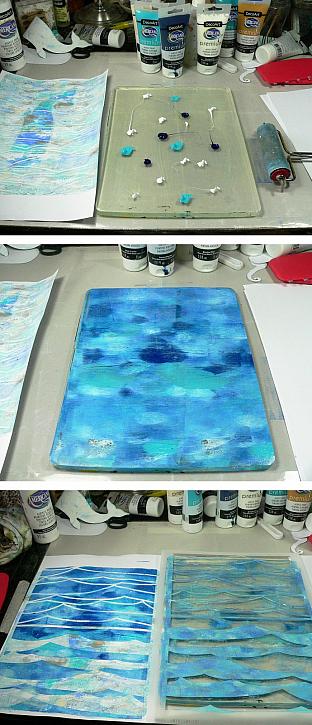 Step Nine: I browsed my "brayer cleaning papers" I already had and picked the ones I really liked to create the signature covers from. I left some the way they already were but used an other as a background to print on. This time I picked the die cut seahorse, small whale and starfish to use them as masks.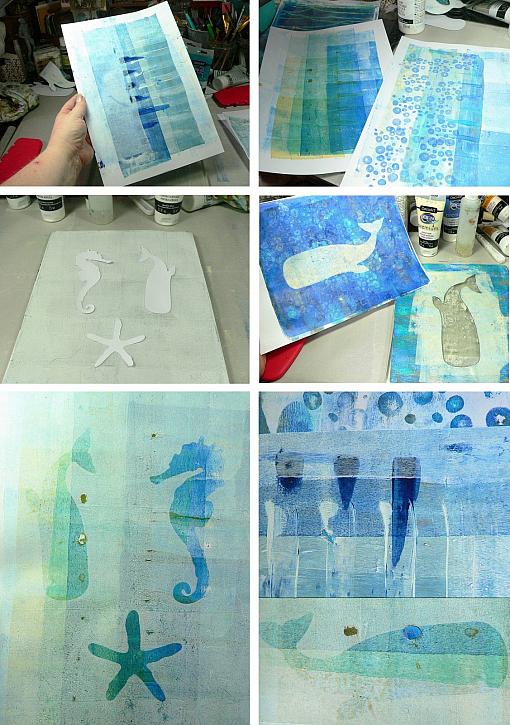 Step Ten: Time to die cut the journal's covers from thick greyboard! I used one of the covers as a mask to put on the prints I wanted to use for the covers' insides and outsides, so I could trace around it with a pencil and cut my papers to size. This way I cut out two whale papers and two waves papers for the front and back covers. Then I painted the inside and outside of the spines with Prussian Blue Hue and also painted around the covers' edges. Using matte Decou-Page and a wide, flat soft brush, I glued the prints to all the covers' sides (see pictures at the bottom).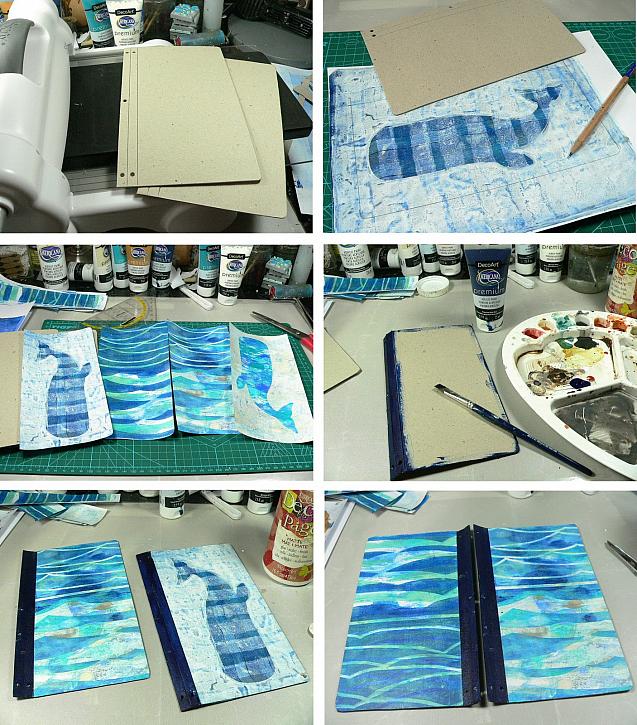 Step Eleven: I used my guillotine to cut the pages for the three signatures and made sure I cut them the length of the distance between the lower and upper hole for the binding (see top left picture). This way the thread does not cut into the pages and the signatures can be exchanged once they're filled. The bottom right picture shows all the parts ready for assembly: the covers and the signatures with their covers before I added some collaged on print scraps and strips.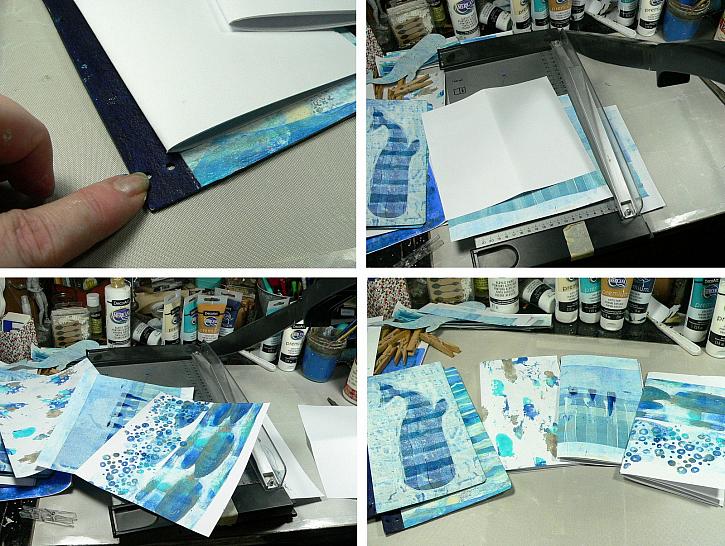 Step Twelve: I even used up the cut off strips and leftovers from the printed collage papers to do more collage on the covers. The bottom picture shows the finished signature covers with the collaged on bits. I used matte Decou-Page and a soft brush to glue the papers in place.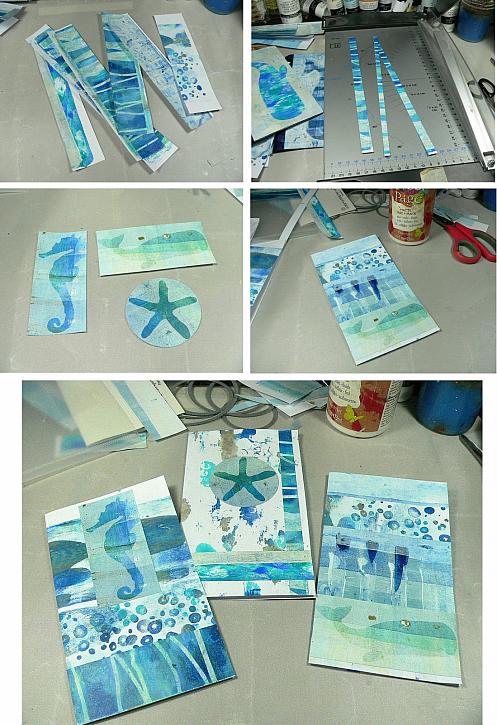 Step Thirteen: To finish off my journal I created a little notes sign for the front cover using small letter dies and print scraps. The baby whale was die cut from heavy greyboard once and twice from leftover print scraps and glued together with matte Decou-Page. I punched a hole and used rough yarn to fix it to the top of the journal's spine so it can be used as a bookmark.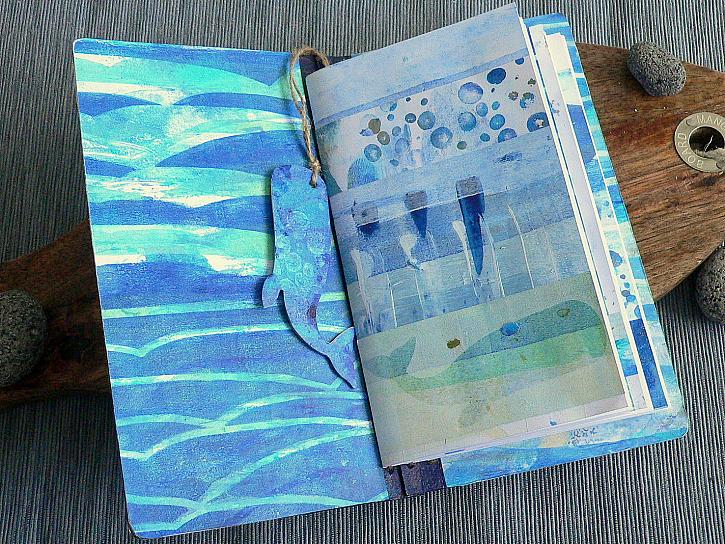 I used the same yarn for the binding, which simply ties the signatures to the spine with a single thread that is tied together in the center of the signatures with a knot.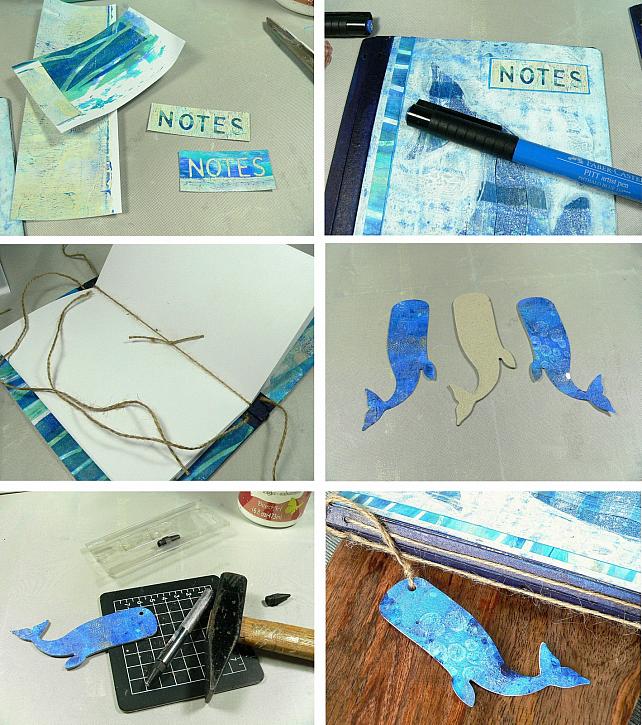 This is how the finished notebook looks on the inside with all the signature covers.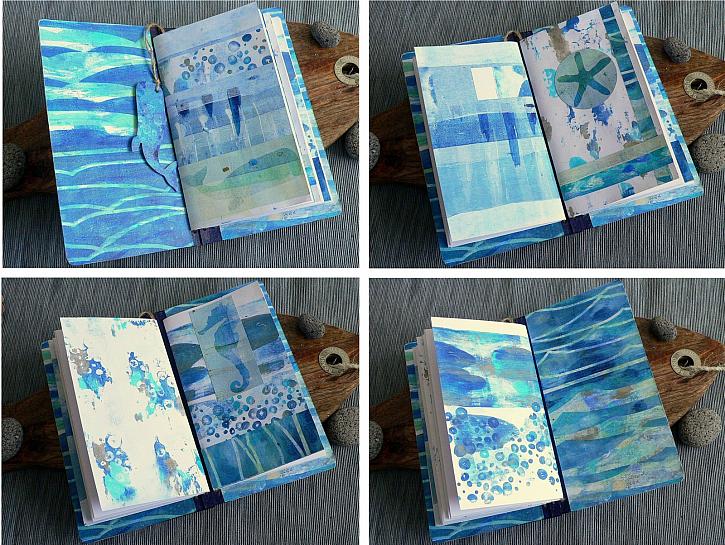 And here's Papa Whale on the back cover.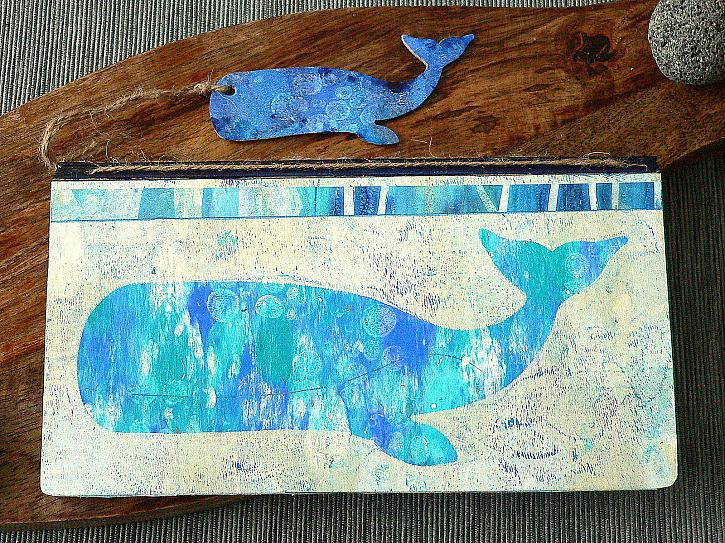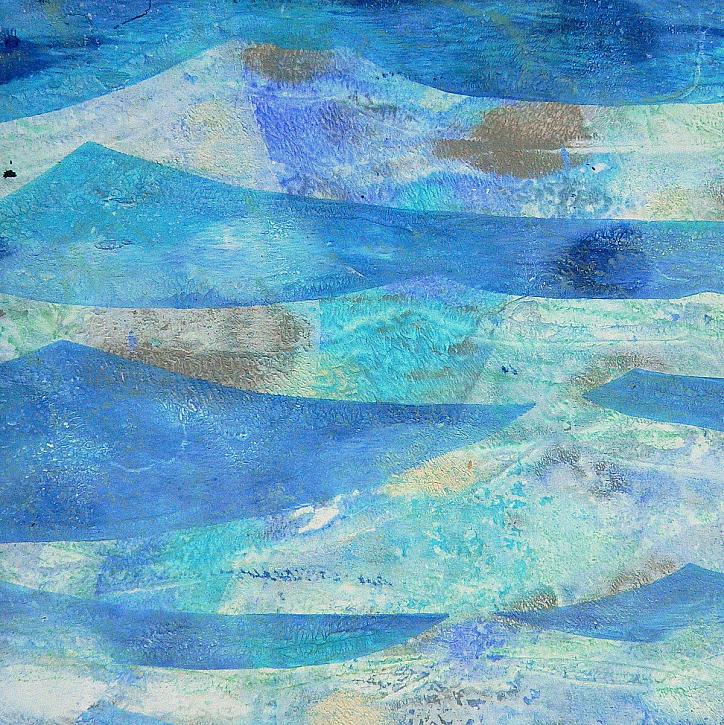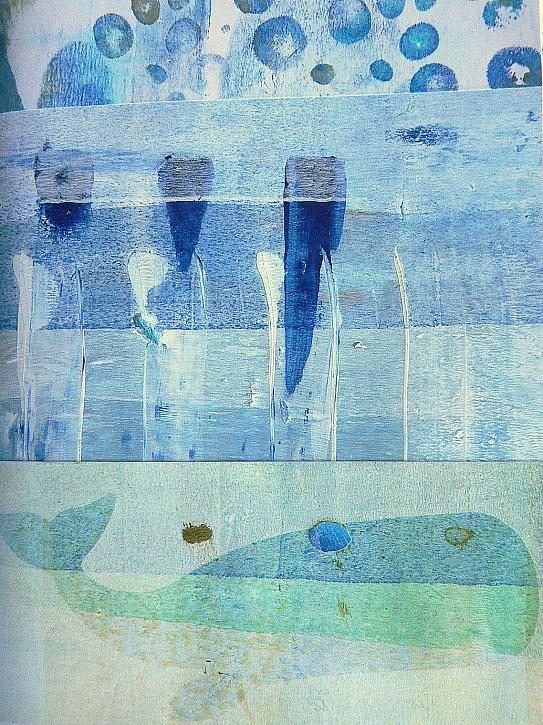 The happy whale family and I would like to say "thanks for stopping by!"
We hope you like our summer fun "Pod of Whales – Notebook."
Claudia xxx