Posted by DecoArt on Mar 21st 2016
Art journaling is a wonderful form of self expression. Whether your pages are completely mixed media art or you add letters and sentiments to your pages; they should reflect you, your thoughts and your own authentic style.
While I typically do not add a lot of words to my art, I did in this case. I created these journal pages for DecoArt's Mixed Media blog as well as art journaling from word prompts with an online class I am taking. DecoArt is a proud and generous sponsor of Wanderlust 2016. The word prompt was "Write a lot, write fast and write everything".
With much more emphasis on the mixed media art rather than the written word, I feel that I was still able to stay true to the prompt. I would like to share this tutorial with you and hopefully you will learn some new techniques or something about DecoArt Media products along the way. 
Items Needed:
Clear Gesso
Inky Art Journal
Tissue Wrap Melange
Splatter Stencil
Pen Nibs Stamp
Concentrated Watercolors
Archival Ink
Clip Art Hand Print
Ruler
Pencil
Fine Line Markers
Spray Sealer
Baby Wipes
Glue Stick
Assorted Brushes
White Tissue Paper
Assorted Cardstock
Grey Transfer Paper
Instructions:
Tear Tissue Wrap to use on the Inky Art Journal pages. Brush DecoArt Media Matte Medium on the pages and press the Tissue Wrap in place. If you need to add more Matte Medium under the wrap, do that now. Then brush Matte Medium over the tissue wrap to seal it. You do not want to heat set the gesso over the center seam of the Inky Art Journal as it will break down the glue in the seam. It is best to just let air dry.
Scrape DecoArt Media White Gesso randomly on the pages using a straight edge. Let it air dry.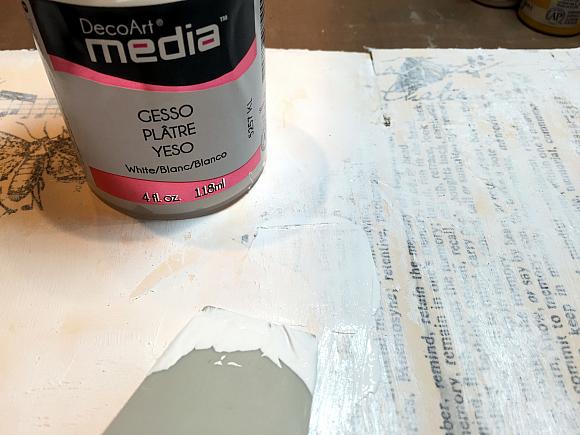 Using a glue stick, randomly place pieces of cardstock, doilies, textural strips, book text on the pages. Let air dry.
Using a scraper or a brush, add more DecoArt Media White Gesso randomly over the pages. Let air dry.
Brush Clear Gesso over the center area of collaged elements on your pages. Let air dry.
This is how your pages will look at this point.
Using a baby wipe, Begin randomly wiping DecoArt Fluid Acrylics Transparent Yellow Iron Oxide over the pages. Let air dry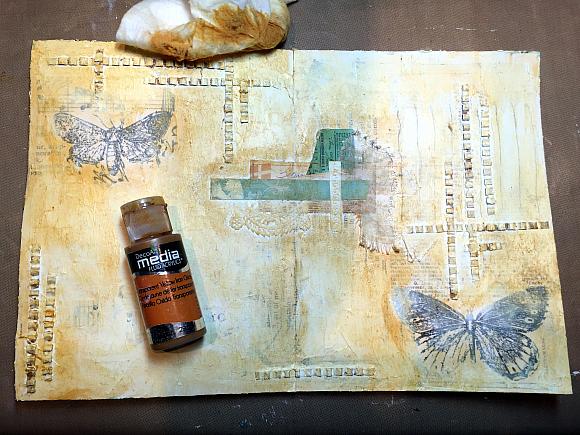 Combine DecoArt Media Fluid Acrylics Cobalt Teal Hue and Titan Buff to create a soft teal. Using your finger, randomly swipe the color to the pages. Let air dry.
Highlight the textural strips by wiping over them with DecoArt Metallic Lustre Copper Kettle. Use a soft cloth or paper towel to buff the color.
Place the Splatters Stencil in place and using DecoArt Media Fluid Acrylics Paynes Grey, dab the color onto the pages. Repeat the different splatters on the pages. Immediately clean the stencil. Let air dry.
Use your finger to gently add more DecoArt Media Fluid Acrylics Paynes Grey randomly on the pages to add depth and shadows.
Stamp pen nibs onto a piece of white tissue paper. Tear around the pens nibs. Brush DecoArt Media Matte Medium onto the surface of the page where you will place the pen nibs. Lay them in place and gently rub over them to remove any air bubbles. Gently brush over the stamped image to seal it in place and make the torn edges disappear into the background. Let air dry
Using a detail brush with a little water on it, add the random concentrated water colors to the page, as if they are running off of the pen nibs.
Add a metallic look to the stamped pen nibs by adding light touches of DecoArt Metallic Gold and Silver mixed until you like the blended effect.
Use a larger round brush with water and randomly add some watercolor effect runs with pink and teal to the pages. To do this, brush the watered down color onto the pages, hold the journal upright and let the watercolors run. Let air dry.
Using DecoArt's Transfer Paper in Grey, tape the clip art hand and pen in place on your page. Slip the transfer paper underneath and using a sharp pencil, transfer the image to the pages.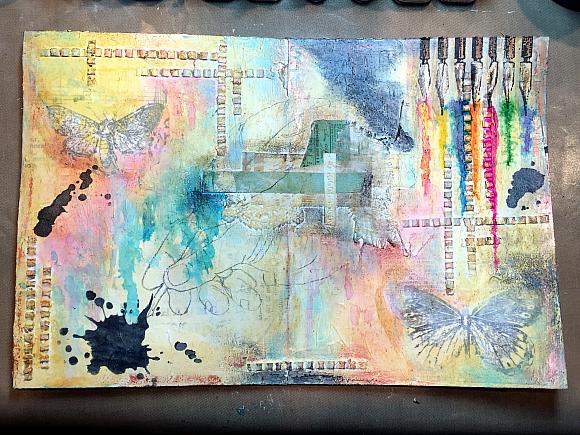 Paint the hand using DecoArt Flesh Tone Acrylic paint. Add a bit of shadowing with DecoArt Media Fluid Acrylics Quinacridone Gold.
Paint the quill pen feather using DecoArt Media Fluid Acrylics Titan Buff.
Add detail to the hand using DecoArt Flesh Tone, DecoArt Media Fluid Acrylics Titan Buff and Burnt Umber. Also add a few darker shadows with DecoArt Media Fluid Acrylics Paynes Grey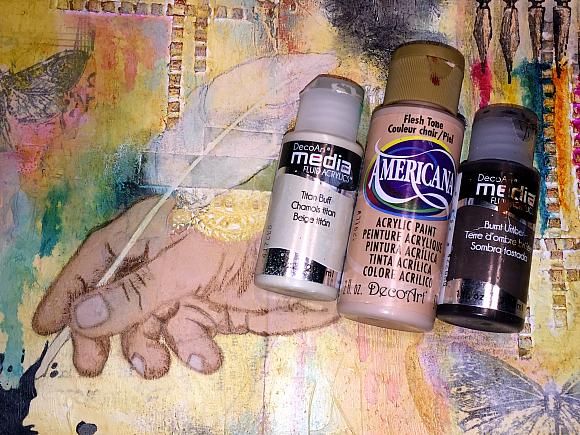 Either freehand or choose a font and a sentiment. In this case, I used the "Invitation" font sized 5 ½" long. Tape it in place on the pages and add the DecoArt Grey Transfer Paper underneath. Using a Kraft pick or a sharp point, trace the letters onto the page. Using a Black 005 marker, trace over and fill in the letters. Spray with a sealer to avoid any smearing or lightening of color.
Add color to the feather. Almost dry brushing, I used DecoArt Media Fluid Acrylics Titan Buff alone and then mixed with DecoArt Fluid Acrylics Burnt Umber and Paynes Grey. Once dry, I added the pen detail to the feather using a Black 005 marker.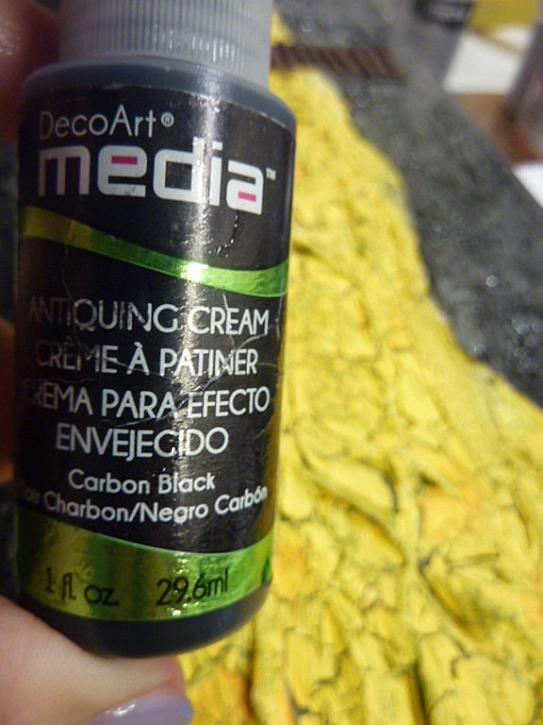 Add your words to the page. I began by first penciling in straight lines to write on. I kept the pencil marks because I like the way they look and I did not want to smudge my marker writing. Add as many sentiments as you wish. Use the Black 005 or 05 markers to write.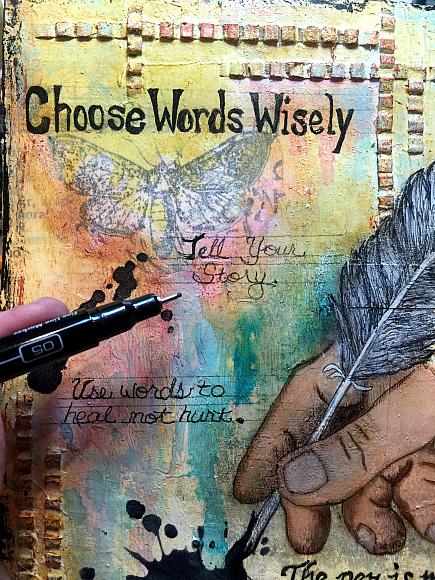 I hope that my art journal pages have inspired you to experiment and play with DecoArt Media products. They truly are amazing to work with and give beautiful results.